LCN Birthday parties are scheduled year-round on Saturday afternoons. There are four party times (1 1/2 hour slots) available each Saturday. These parties are great for ages 3 and up! All parties consist of approximately an hour of fun in the gym area with two inflatable bouncers, two giant trampolines, an obstacle course, parachute games, and free play! LCN will supply at least one hostess helper for supervision in the gym with your party during the playtime. Then the party moves upstairs into our spacious party room for gift opening and birthday cake! Tables and chairs are available for all party participants!
We have two party packages available for your convenience:
*"Basic" Package
consist of all of the above!
Our price for this party package is $205 for up to 30 participants. $6 per participant over the 30.
*"Deluxe" Package consist of all of the above and we will supply your Birthday Cake (Cheerleader, All-sports OR Happy Birthday Themes available), all paper goods, table cloths, juices for party participants and goody bags for each party participant as well! Our price for this party is $230 for up to 15 participants. $6 per participant over the 15.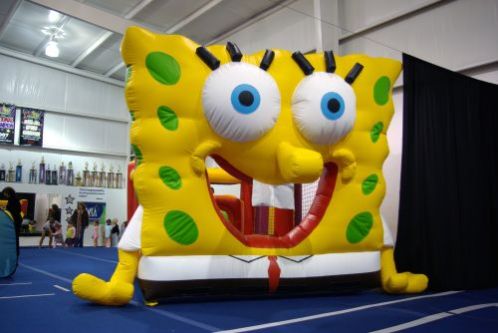 Please contact our front office for booking information at 798-6643 between the hours of 2:00pm-7pm!
A "Birthday Party Registration Form" (FORMS page of this web-site) and a $75 deposit are due at booking to reserve your party.
PLENTY OF ROOM IN OUR UPSTAIRS AREA FOR EATING, GIFT GIVING AND FELLOWSHIP FOR YOUR PARTY!!!!
WE HOPE TO SEE YOU AT ONE OF OUR BIRTHDAY PARTIES!!!!!!